"The whole world" is one family
One cannot help the poor and misfortunate and think that it takes away their pain and suffering. It merely takes it away for a while.But even in that while, they feel loved and cared for. We in return get the unequaled feeling of satisfaction of helping a fellow human.We feel superior,not superior to the person we are helping but superior to our former self.
Help of any kind to anybody with us or anywhere else starts a chain that will see the benefactors or your close ones repeat it in near future.It might just be a major catalyst in changing the society. Your help even for one time may change the life of a person for the better, forever.
We care the most for our family. For the generous, the whole world is their family.
– Shashtri Kapiljivandasji
"Hope through welfare schemes"
A financially challenged person can be helped in many ways; one can provide him food, clothing, help him arrange a shelter, give him cash for medical treatment, provide medicine or help him get a job or self-employment. The problem is that all of this doesn't necessarily bring him and his family out from the destitute state. Same goes for asocially challenged person.
What it does though is that it provides that person hope. Hope that they can make it, make it to a better life.
For over two decades with the blessings and guidance of Purani Keshavcharandasji and Shashtri Kailjivadasji we have just done that. We have provided hope. Hope to a better life in health, in income and in social status.
Through education and our welfare programs we have made difference to lif e of many, especially tribals inValsad district.
"Better opportunities through education"
Education is the biggest and most guaranteed mode of socio-economic change. It provides the means if not guarantee of a better life and most definitely forms the base of it.
Education in tribal sectors ofValsad districts has suffered due to lack of physical infrastructure, lack of capable teachers and persistence from concerned agencies.
We believe and have always believed educating the financially and socially challenged is the only way forward to give them better lives. At Salvav we educate talented tribal girls from classes 9 to 12 absolutely free of cost with the help of MAA foundation. hundreds of students have benefitted from our education system till date.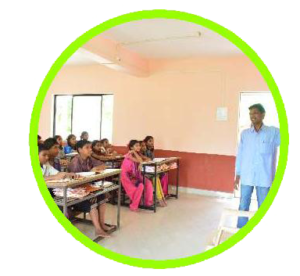 "Education that empowers"
Our sister trust Shree Gandhi ashram at Mota Pondha has worked relentlessly for education of tribals in Kaparada for the last 18 years.
Gandhi ashram started with a noble idea of taking education to the tribals. A small residential school upto class 5 was started under the guidance of Vignan Vallabhdasji Swami at Mota Pondha. Today around 240 tribals live and study at Mota Pondha free of cost every year in classes 1 to 10.
The firm belief and devotion to the singular cause of education of tribals has produced numerous P.T.T.C and B.ed. teachers, Nurses, Mechanical engineers and Civil engineers.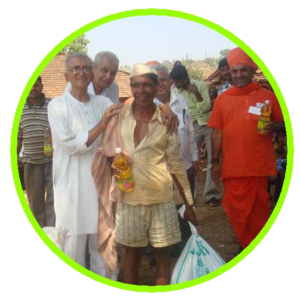 "Poverty elimination "through employment
Many villages of Kaprada and Dharampur talukas are still besieged in poverty and unemployment. Every year many migrate to nearby towns for employment where again lack of education, communication and skill become samaj or hindrance.
For some even that is not possible. Lack of employment bring s malnutrition and even hunger to some extent.Every year we organize camps to provide food grains and basic nutrition to those people who cannot afford them on their own. More than 35000 blankets have been distributed among the tribals in the past few years. On special occasions and f estivals Bhandaras are arranged feeding over 3000 tribals at a time. Around 4 such Bhandaras are performed every year.
For those who are able and willing to work,we try and impart them skills to make a living. Over 50 couples have been trained in language, skills and ways of the cities. All of them have been employed at various places giving them a better life.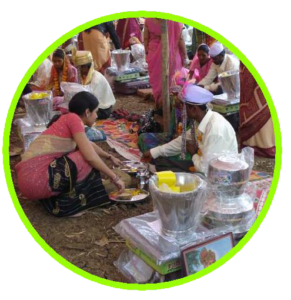 "Social responsibility and joy through mass marriages"
Marriage is a costly financial affair. Tradition demands from marrying couples of a feast for the relatives and neighbours amongst other gifts and expenses.
For those who cannot afford basic amenities, expenses on marriage, associated rituals and traditions is hard to fathom. As a result many tribals, instead of performing a ceremony just start living together. No ceremony, so nothing is expected of them. But a feeling of not enjoying and sharing the best day of their lives lingers.
We find such couples, some of them already grandparents and give them the marriage ceremony they deserve. Held according to all their rituals, with friends, relatives and fellow villagers along with all the celebration, fanfare and gifts associated with a marriage. Kanyadaan is performed by the trust with enough material and spiritual blessings to start a happy married life.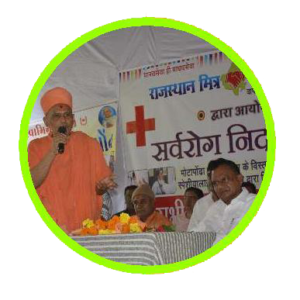 "Healthy living through healthcare facilities"
The health status of tribals is amongst the poorest. They are the most marginalised groups in India. The tribal community lags behind the national average on several vital public health indicators,with women and children being the most vulnerable.
Health problems prevalent in tribal areas include endemic infectious diseases like malaria,tuberculosis,and diarrhoeal diseases,apart from malnutrition and anaemia.
Ignorance, attitude and lack of healthcare can lead to severe problems. Every year trust along with donors and medical experts organize free checkup camps in extremely backward areas to diagnose and if possible provide a cure for health related issues in tribals.
Over 5500 tribals have been diagnosed and treated through our medical camps. In addition to diagnosis we also provide medicines, spectacles and facilities for small eye and dental surgeries free of cost at this camps.
"Showing the way to a better life through de-addiction programmes"
In addition to diseases, the problem of addictions to liquor and other such vices in tribal youth,compound the health,social and financial issues.
Research suggest that alcohol consumption leads to over 60 different diseases. In a community already struggling with financial stress, alcohol consumption compounds the problem.Trust conducts awareness camps, helps with rehabilitation and even provides medicine for addicts.
More than 1000 tribals have been de-addicted through our camps.We also helped them to give up meat and non-vegetarian products of any kind and become vegetarians.
"Spiritual and divine guidance through shrines for Gram Devtas or Devis"
The relationship between god and humans is intimate, its even more intimate between god and the less privileged. Every tribal village has a Gram devata protecting and looking after them. Many times this gods or deities don't have a shrine and if they have one it is without a roof.
We help such villages build a shrine for their deities irrespective of the deity they choose. One such village is Naarvad. The villagers are strong followers of god Hanuman and their Gram Devata is Makardhwaj. The pictures show the temple of Hanuman and Makardhwaj constructed in 2015.
We have completed temples in Dharampur, Waghvad, Pangarbari, Paikhed, Gundiya, Aavdha, Olvera, Dhamanvengana and Naarvad. Temple construction at Sadadvera is in progress.
" Overall development through village adoption"
We have always approached welfare as means for allround development of people both as individual and as a community. Apart from our various welfare service individually helping people overcome their difficulties, we try hard to provide a better community living environment. This includes helping common problems applying to entire village.
We adopt villages in tribal areas so as to provide them a platform to present and solve their problems. Our aim in adopting this villages is to provide infrastructural and social development along with emphasis on dignity, social equality, cleanliness, awareness, education, healthcare and way of living.
"Service to mankind: Everywhere"
We work round the year for the benefit of those who really need it. Our activities serve the community around Valsad as a whole. Education, guidance workshops, medical camps, Bhandaras on special occasions for entire villages, awareness , training and employment, relief and counseling are few of the activities we undertake annually. Education in tribal sectors ofValsad districts has suffered due to lack of physical infrastructure, lack of capable teachers and persistence from concerned agencies. We believe and have always believed educating the financially and socially challenged is the only way forward to give them better lives. At Salvav we educate talented tribal girls from classes 9 to 12 absolutely free of cost with the help of MAA foundation. hundreds of students have benefitted from our education system till date.
Our service also extends to Indians who have suffered form major natural disasters. From Kandlur and Kuttch earthquake, to relief for victims of Tsunami, we have approached our duty to help fellow Indians with all sincerity. Where we cannot reach we have made sure that we have made some contribution through donations to official agencies of the government.
"We will always care for those who need help"
As a result of constant and dedicated efforts we have made a significant difference to life of many. "Falshruti"of our efforts is summarized below:
Tribals of 65 villages have in one way or many benefitted from our efforts in Dharampur and Kaprada talukas.
Hundreds of tribals have got education due to our efforts in Dharampur and KapradaTaluka.
Numerous families have received food grains and other essential daily needs through our village adaption programs. Thousands have been fed through Bhandaras every year.
More than 35000 blankets have been distributed amongst the needy
Over 1000 persons have directly benefitted from our de-addiction programs and camps.
Over 5500 tribals have benefitted through our healthcare programs.
Over 50 couples have been trained and provided with employment at various places. Employment to several tribals in our own organizations.
10 temples have been built as per the wishes of tribal villagers with deities of their choice installed in those temples.
More than 850 couples have found marital bliss through our mass marriage ceremonies.
"Investing in children to re-invent our world"
List of Villages of Dharampur taluka covered under various welfare schemes:
Bilpudi,Kedavani,Bhensdhara,Ugta,Paanva,Sidumbar,Dharampur,Piprod,Raan veri,Bhaanvad,Pindvad,Pangarbari,Vaghvad,Ulas pedhi,Saamarsingi,Kosbaadi,Gundiya,Khadki,Madhuri,Kotha indri,Aambosi Bhavthan,Aambosi,Pandav khadak,Hanmat maad,Mama bhacha,Kosim pada,Gadi,Bildha,Bhovada,Khanda
"Empowering women because a Society cannot succeed if women are held back"
List of Villages of Kaprada taluka covered under various welfare schemes:
Mandava,Varvath,Lavkar,Karjun,Nilosi,Ambajangal,Kolvera,Hanmat maad,Singar tati,Sarovar tati,Chenpa,Likhvad,Nanipalsan,Shahuda,Biliya,Vaalveri,Nilongi,Zhimanpada,Palas sodha,Naarvad,Khadki,Ghotan,Kaasad veri,Chip pada,Kumadha,Chinch pada,Mani Borpada,Vir kshetra,Vaavar,Baarpuda,Maa tuniya,Sildha,Dhamanvengan